Assisted Living Menifee CA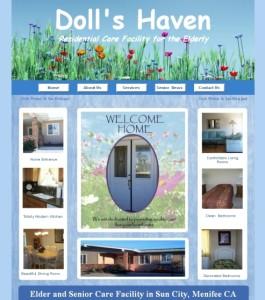 Menifee and Sun City are great places for seniors who need assisted living.  The weather is great and warm. Winters are light and there are many places for seniors to visit.
Doll's Haven is a private home facility catering to seniors who desire an active independent life style.  The home will take seniors who need assistance with daily duties of life.
Many of these services include freshly prepared home cooked meals, bathing, dressing, grooming, laundry, assistance with taking prescribed medications, scheduling medical appointments and providing daily activities.
Dolls Havens is a great place for your parents to feel like they are living at home.  The home has all the same amenities of a real home, with a touch of elegant living and entertainment areas in doors and a spacious backyard.
For  Assisted Living Facilities, Sun City or Menifee for Elder Seniors, visit the website and learn more.
Click the photo and the link will take you there.