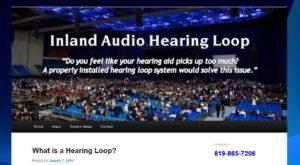 Hearing Loop Systems
Installation and Repair by Inland Audio Hearing Loop.
Inland Audio Hearing Loop Systems provides installation and repair service in most cities in the Southern California Area.  Currently our offices are located in the city of  Murrieta.  We provide services in all of the Temecula and Murrieta Valley Areas.  In addition listed are additional cities that we offer installation and repair.
Hearing Loop Systems don't exist in a carton or on a warehouse shelf; but only when carefully designed, installed and certified for proper operation.  If you are not sure what a hearing loop is, we can discribe it for you:  A hearing loop system is simply a thin strand of copper wire that radiates electromagnetic signals that can be picked up by the small receiver (t-coil) built into most hearing aids and cochlear implants.  The hearing loop system allows the person to hear only the sounds coming directly from the microphone not the usual background and interference noise.
Inland Empire Audio can support you with design, consultation, installation, and training to ensure that the best quality solution is delivered to meet the needs of your particular application.
Josh Musgrave is the Owner of Inland Audio Hearing Loop.  He is certified and licensed to install your custom hearing loop system.  It is his job as the designer of your system to meet with you at your home or business facility and get all the particulars that are required to design the system that meets your specific requirements.  He offers custom design plans for your special circumstances.
Contact Inland Audio Hearing Loop for custom quote.