Master Detox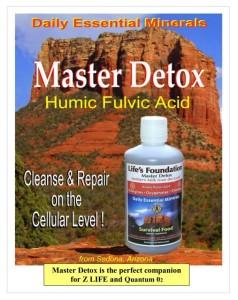 Master Detox, Humic Fulvic Acid is known as Mother's Earth Milk. It is a great health product aids in cleansing and repairing your body on a cellular level.
This health product can help give you the specific balance of ingredients to support the natural healing process of the body.  This product consists of tiny, extremely complex molecules.  It can penetrate cells to perform innumerable functions and is a powerful anti-oxidant.
This product may give you a gentle detox and a remineralizer for your system.  Most importantly it removes heavy metals and toxins.  It Chelates and Oxygenates your body.  It may also help your Immune Function.  It is also known to give you a better pH balance.  Your cells will be deeply nourished and hydrated.  It increases electrolytes.  It replenishes minerals, vitamins and amino acids.  Improves health and vitality.  This is a product intended to cleanse and repair your body on a cellular level.
Visit the Master Detox, Humic Fulvic Acid  website to learn more about their products.
You can purchase their products online too!